Terry Richard | Employee Spotlight
We have a great team in Calgary, Edmonton and Kelowna, and want you to meet them! Next up, Terry Richard.
---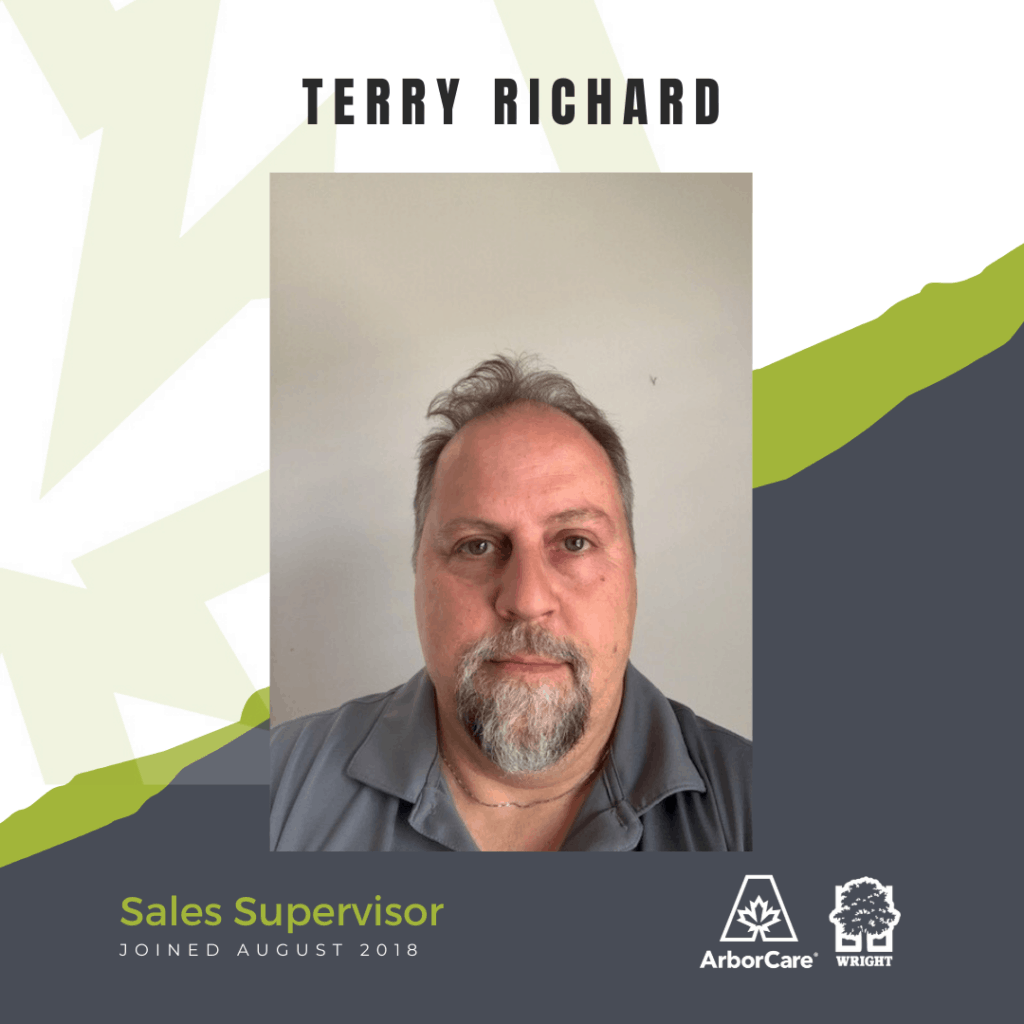 Meet Terry Richard
Title: Sales Supervisor
Team Member Since: August 2018
Career Path
Q: Describe your career path. How did you get into what you do now?
A: I started in the transportation industry as a relocation specialist and then followed as a heavy tow operator. With that came a lot of customer service that I was always good at. In 2011, I was looking for a change that would allow me to have more of a work life balance. That is when I got into sales and started with ArborCare in the summer of 2018. I was promoted to sales supervisor a year later.
Q: Explain your position. Describe your role with the company.
A: As the sales supervisor, I oversee the inside sales team (customer service) and the outside sales team in Calgary, Edmonton and the Okanagan to grow the ArborCare brand. I also work with the marketing team to promote the brand overall.
Life at Wright Tree Service of Canada & ArborCare
Q: What is your favourite part about your job/working for the company?
A: The comradery that we all have and the support we all have for each other is what makes the job fun.
Q: Who has played an influential part during your time with the company & why?
A: I truly believe it is the whole management team as a whole and not an individual who has influenced me to be better. Everyone is always there to help when you need them and/or just listen if you are having a bad day.
Q: What are you most passionate about professionally? What excites you most about your work?
A: I am passionate about the sales side of anything and always want to be a ethical and upfront with any sales that I am responsible for. I have strived in all the sales positions that I have held and the rush that comes with the next sale.
Q: What are some words you would use to describe Wright Tree Service of Canada / ArborCare?
A: Leaders, supportive, and growth.
Hobbies, Interests & Influences
Q: What do you like to do when you aren't working?
A: Spending time with family especially my two grandkids. Traveling, golfing and I am the president of my community association.
Q: What's something about you that not many people know?
A: Even though I grew up near the ocean, I'm a very weak swimmer.
Q: Who was the most influential person in your life?
A: My dad. The work ethic that I learned from him has helped me in almost anything I have done.
Q: Do you and/or your family have a favorite tradition?
A: Not really a tradition but Christmas is a big deal for the family.
Q: What's a value statement or quote you live by?
A: "Work smarter, not harder" is something I have always believed to be true in anything I have done.