Your Trusted Arborists in Western Canada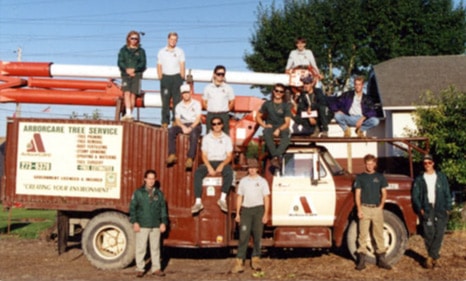 "Your trees have been in the family for a long time. Let ArborCare's team of trained professionals help you protect your valuable investment." – Jim Fisher, founder of ArborCare
ArborCare® a division of Wright Tree Service of Canada. ArborCare was established in 1983. Since then, our company has grown from having one truck to a fleet of over 100 vehicles and specialized equipment, including five of the largest aerial trucks in Western Canada.
We are proud to be leaders in the arboriculture industry with over 100 full-time employees on staff. Our goal is to provide exceptional arborist services to clients in Alberta, British Columbia, and Saskatchewan through our offices in Calgary and Winnipeg.
Our experienced team provides a wide range of services for commercial and residential clients alike. Here's what we offer.
A full range of arborist services
Making sure your trees are healthy and strong is a crucial part of maintaining your property. Here are the tree care services ArborCare provides to clients in Calgary.
Plant management
In addition to planting and maintaining trees, ArborCare offers a range of landscaping services. Our plant management team knows that the climate in Alberta can make it difficult to care for shrubs and decorative plants. That's why we offer a complete range of services, including fertilizing, pest control, washes and winter anti-desiccant treatments.
Seasonal maintenance
ArborCare also provides comprehensive seasonal maintenance. This includes:
Commercial snow removal. Keep your clients and employees happy by hiring us to take care of all your snow removal needs. We're familiar with the bylaws of every city we operate in. 
Summer lawn care. From mowing to fertilizing and aerating, our experts can take care of everything to ensure your lawn looks its best throughout the entire season.
ArborCare is a dynamic and progressive company providing outstanding service to commercial, residential, and institutional clients. From tree care to plant management and seasonal maintenance, we can handle all your arbor and  landscaping needs. Contact us today to schedule an appointment or request a free estimate.
Updates
Projects
At ArborCare, we have the expertise to take care of all your tree removal needs in
Calgary and Edmonton.