Count on Us for Snow Removal Services in Calgary
Winter is just around the corner! Do you dread clearing snow and ice from your home's driveway or your business's walkways and parking lot? ArborCare® can help. Our team provides reliable commercial and residential snow removal services for customers in Calgary. You can count on us to promptly clear away snow and ice to provide unhindered access to visitors and customers.
No matter how heavily it's snowing, we guarantee service within 24 hours of snowfall ending. Contact us today to book your service.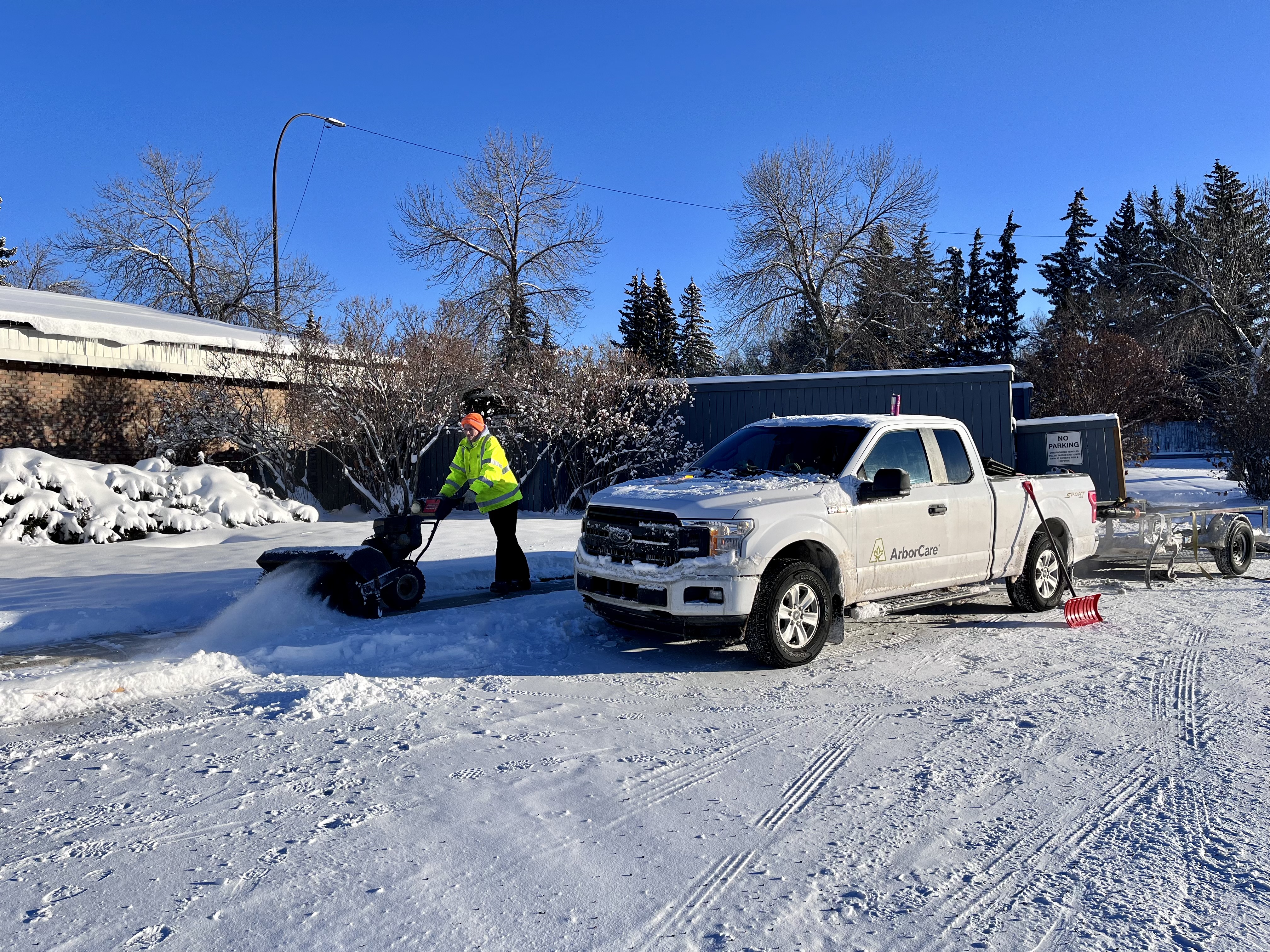 Why Does Your Commercial Property Need Professional Snow Removal?
Here are some of the benefits of investing in professional snow removal for your commercial property:
Prevent injuries. Prompt snow removal decreases the chances of customers and staff slipping or falling on the sidewalk or parking lot outside your property. No matter what type of business you run, a well-plowed property is a safer place for everyone.As a business owner, you're liable for any accidents that happen on your property due to inadequate snow removal. The best way to avoid lawsuits or fines is to hire a reputable snow removal company.
Improve curb appeal. If your parking lot and walkways are full of snow, customers may be discouraged from entering your business. Losing business because of snow and ice could affect your bottom line. Our team will ensure your property is plowed to provide your customers with a safe and warm welcome.
Relieve stress. Snow removal is time consuming and labour intensive, and it requires the right equipment. When you invest in professional service, you don't have to stress about purchasing expensive tools or spending time clearing snow after hours. Our qualified team employs sweepers, sanders, plows, Bobcats and dump trucks to quickly and safely clear your property.
At ArborCare, we understand that every property is unique and has different snow removal needs. We pay attention to the details and steer clear of features and obstacles that may be hidden underneath the snow. Our approach allows us to prevent damage to your property and ensures efficient snow removal. Let our experienced staff provide you with snow plowing services in Calgary this winter.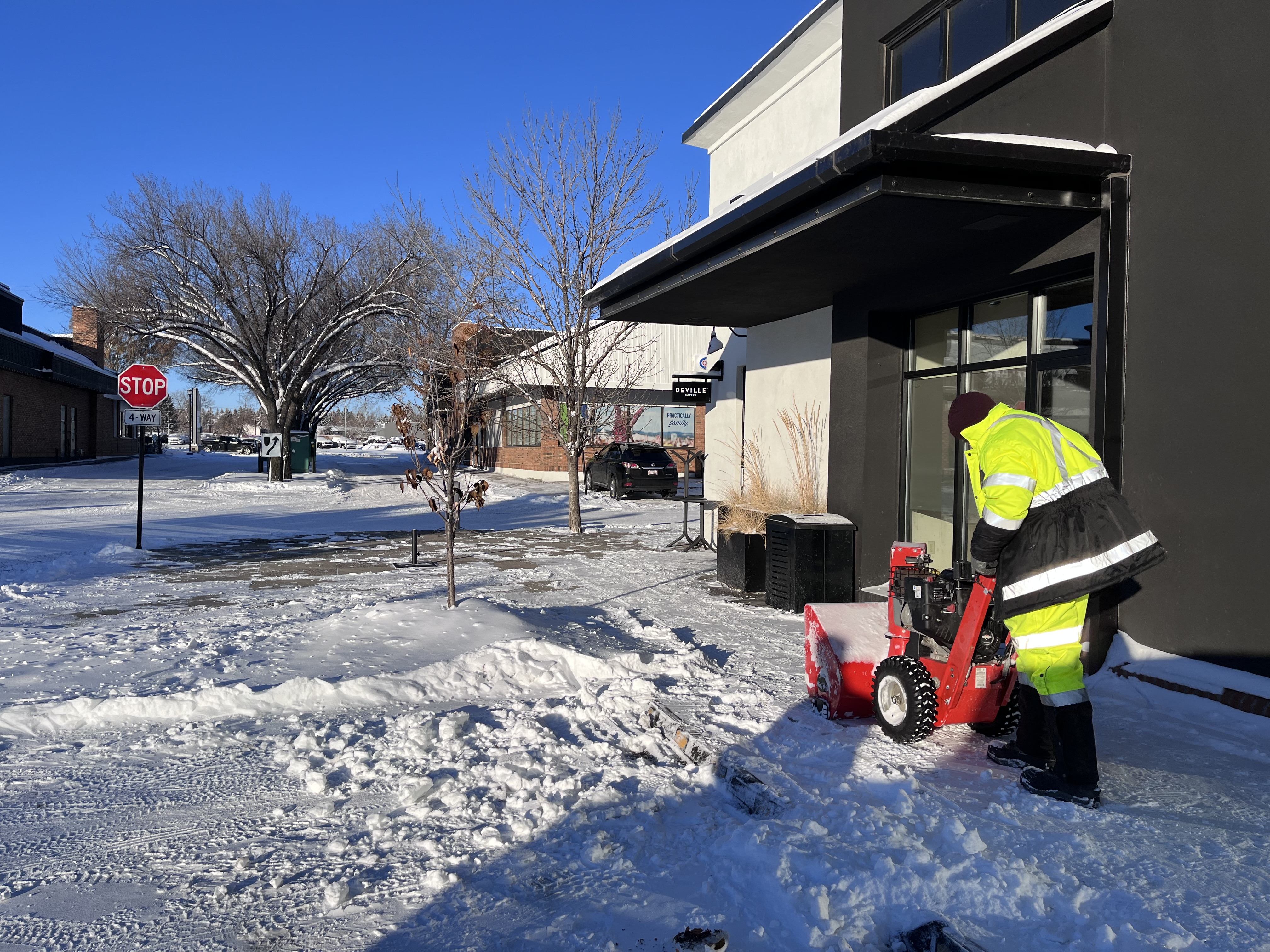 What Are the Benefits of Expert Snow Removal Services for Homeowners?
Here's an overview of the benefits of investing in residential snow removal services:
Save time. Snow removal can be a tedious job. When you hire a snow removal contactor, you can spend your time with loved ones instead of doing backbreaking work. You can also rest easy knowing your driveway will be plowed when you get home from work.
Prevent strain. Shovelling snow can lead to strained muscles and a sore back. Leaving the strenuous work and heavy lifting to the pros can prevent serious injuries.
Improve safety. Leaving snow removal to the pros can help prevent you and those visiting your home from accidentally slipping and falling on your driveway or sidewalk. A well-plowed driveway also improves access for postal workers and delivery persons.
When it comes to snow removal, we understand your needs and do an outstanding job every time. We can expertly shovel snow from your yard and driveway, chip and melt the ice around your property and plow our way through snow-covered tracks. We can also haul away snow.
Trust the residential snow removal services from ArborCare. We offer various snow removal packages in Calgary at different price points. Get in touch for an estimate today
Get Rid of Snow With Quick Snow Removal
Most cities provide snow removal for public roads and sidewalks during the winter. However, when there's a snowstorm, some of that snow may pile up near your business or private property.
The City of Calgary has a seven-day snow plan for any paved roads used by motor vehicles and bicycles. This plan allows citizens to check the snow removal schedule after a snowfall. However, the City's snow clearing bylaw requires property owners to remove the snow accumulated on the sidewalks adjacent to their property within 24 hours of a snowfall.
ArborCare will ensure you no longer have to worry about snow removal on or around your property or business. We monitor the weather and promptly dispatch workers to provide you with quick respite from the accumulated snow. Whether you need service for your business or home, rest assured we'll be prompt. We value our clients and honour every part of our contract. Contact us today. Our team will be happy to discuss your specific needs. 
Professional Snow Clearing Services in Calgary
While homeowners worry about snow piling in their yards and on their roofs, businesses face the woes of sidewalks and parking lots buried under layers of snow. Fortunately, you can count on the professional snow removal services offered by ArborCare in Calgary. Once the weather warms up, we also offer various landscaping and lawn cleanup services to keep your property clean all year round. Contact us today for more information about our services.
Commercial + Residential
Services
At ArborCare, we have the expertise to take care of all your tree removal needs in
Calgary and Edmonton.