Commercial Tree Care in Calgary, Edmonton, Vernon & All Western Canada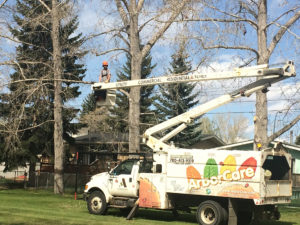 Throughout Western Canada, commercial businesses rely on ArborCare Tree Service to meet their needs. We help our commercial clients make powerful first impressions by improving the look and appeal of their buildings and landscaping. We do that through the careful selection, planting, and maintenance of trees. Providing commercial tree care in Calgary, Edmonton, Kelowna, Vernon, and the rest of Western Canada relies upon, our trained arborists will ensure that your site is appealing to the eyes of new customers.
Along with impressing your existing clientele, improving the aesthetic value of your property will also help your business stand out and attract new customers! Thus, by investing in commercial tree care, you will be taking significant steps toward expanding your business. So if you are a property manager or in charge of your company's grounds maintenance give us a call to set up a site visit with one of our experts!
Some of our services include:
Commercial tree planting
Commercial tree safety
Commercial tree health services
Commercial tree maintenance
Tree service after severe weather