Contact Us - Edmonton
Call or submit our online form for general questions about us. To Request an Estimate for your Residential or Commercial services, submit here. We look forward to serving you!
ADDRESS
ArborCare Tree Service – Your Premiere Arborists Serving All Of Western Canada with an office in Edmonton, AB
9811 62 Ave NW
,
Edmonton
,
AB
T6E 0E4
Phone: (780) 413-9319
Opening Hours


CONTACT INFO
PHONE: 780-413-9319
TOLL FREE: 1-877-444-8733 (TREE)
FAX: 780-439-1934
EMAIL: edmtrees@arborcare.com
Arborist Edmonton, AB
Tree Service Edmonton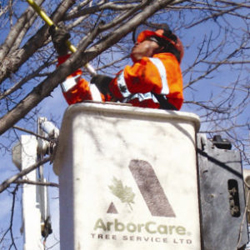 ArborCare Tree Service is proud to provide the residents and businesses around Edmonton with tree service and comprehensive plant care. Since our humble beginnings with one truck in 1983, our company has grown to over 100 vehicles and multiple offices, providing high-quality service for many Edmonton trees.
Plant Management Programs for Any Budget
Our environmentally safe services are sensitive to seasonal needs. We offer a range of Plant Management Programs to accommodate your priorities and budget. Our certified arborists in Edmonton are standing by to assist you with any tree services you need, including shaping and restoration, insect and disease control, tree removal and stump grinding, and after-storm cleanup.
Your Trusted Source for Tree Trimming in Edmonton
While it may seem inconsequential or unimportant, tree trimming in Edmonton is one of the most important aspects of maintaining the health of your trees. By removing dead or dying branches, the chance for further decay will be greatly reduced. Additionally, trimming will also improve the overall appearance of the tree while increasing sun exposure and air circulation. If you're seeking to spruce up the appearance of your trees, give ArborCare Tree Service Ltd. a call today for tree trimming in Edmonton and surrounding areas!
Make Your Grounds Look Inviting and Professional
ArborCare knows that the way your trees and plants look reflects on you or your business. We always take great care with the many beautiful trees in Edmonton so that your grounds always look inviting and professional.
Licensed, Bonded, and Insured Arborists
Our certified arborists are licensed, bonded, and insured; proof that you—and your trees—will be in expert hands. We also have equipment other arborists lack. You can be confident that ArborCare will get the job done right. Our Utility Division/Edmonton office services the following areas:
Sherwood Park
Strathcona County
St. Albert
Vegreville
Vermillion
St. Paul
Cold Lake
Bonnyville
Mannville
Two Hills
Sylvan Lake
Slave Lake
Estimates are available for all of our tree services in Edmonton, so give us a call today at 780-413-9319, or email us at trees@arborcare.com.
Our Edmonton office services the following areas: Sherwood Park, Strathcona County and St Albert.