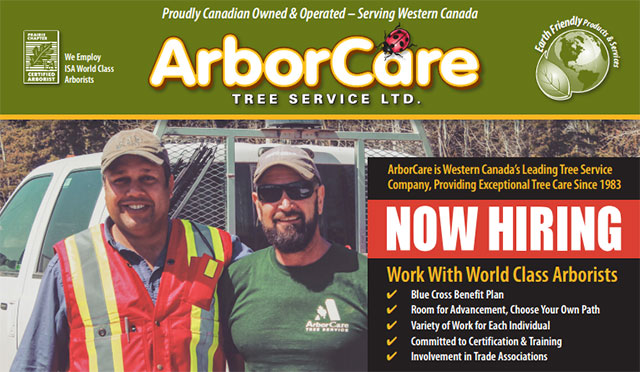 We're Currently Looking to Hire a Crew Leader/Foreman in Western Canada
ArborCare Tree Service Ltd. is committed to a safe and healthy workplace in our various Western Canada offices. ArborCare provides opportunities for a long-term career with growth potential, training opportunities and competitive compensation!
Required Experience
The ideal crew leader candidate will have 3-5 years of experience in the arboriculture industry or landscape industry.
Forestry or horticultural related experience or schooling is a beneficial qualification. Experience with landscape installation, lawn care, tree service, ground maintenance, machinery and equipment, and working with chainsaws, wood chippers, skid steers and front end loader is valuable. A valid Canadian driver's license in good standing is required. ISA/PVMA/Danger Tree Assessor/Tree Felling certificates are all advantageous.
Primary Duties
Supervising landscaping and grounds labourers
Establishing work schedules and procedures
Resolving work-related problems and training workers safely
Demonstrating strong attention to detail, an ability to work well under pressure and with tight deadlines in a fast-paced environment
Arriving on time to designated sites with the proper gear needed to do the required tasks assigned each day and maintaining assigned company gear
Applying critical thinking while communicating to employees, working with others, problem solving, decision making, job task planning and organizing
Utilizing all appropriate personal protective equipment
Send your replies to Ryan Fisher at careers@arborcare.com or by fax at 403-272-1536. Please note that phone applicants will not be accepted.