Guide to Elm Tree Pruning in Alberta, British Columbia and Manitoba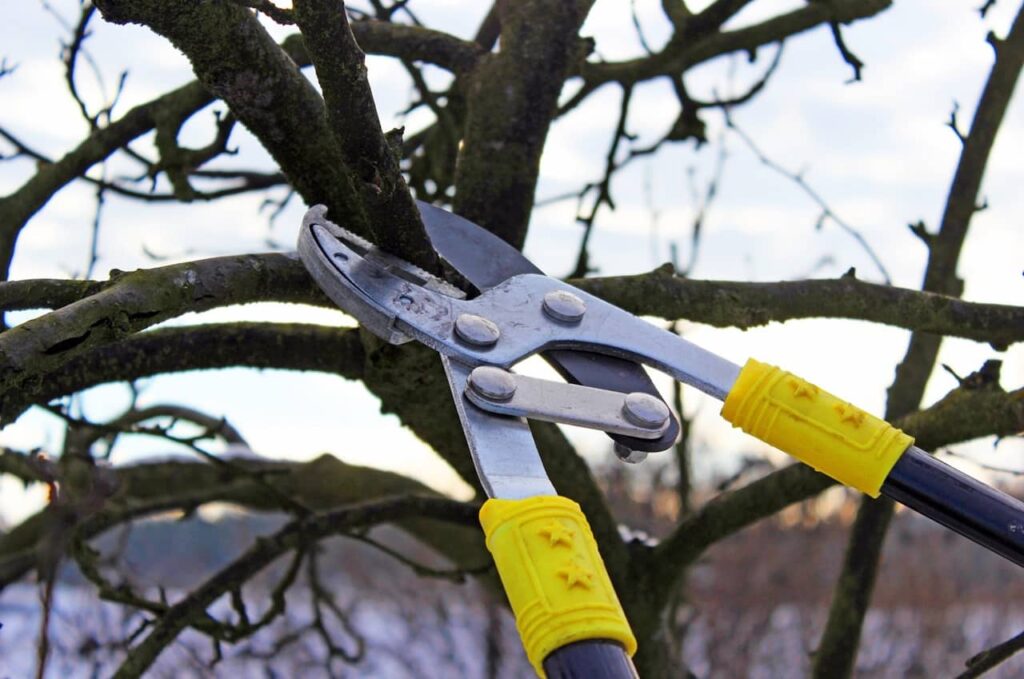 Pruning keeps elm trees healthy and can prevent Dutch elm disease. However, pruning trees incorrectly or during the wrong time of the year can do more harm than good. This could cause Dutch elm disease to spread and potentially kill our magnificent urban forests. Many cities have pruning bans prohibiting elm tree trimming during specific months. Here's some helpful information on elm pruning, including why you should hire a professional arborist to trim your elm trees this year.
What Time of Year Should Elm Trees Be Pruned?
Generally, the best time to prune an elm tree is when it's dormant, during the colder months. At this time of year, trees hibernate to survive the harsh cold and reduced sunlight. The best window for pruning your elm trees is usually between October to March.
Pests like elm bark beetles, which carry and spread Dutch elm disease, are also inactive during fall and winter, which is another reason to prune during this time. In fact, summer trimming attracts bark beetles because they're attracted to fresh pruning wounds.
Many jurisdictions allow elm tree pruning as early as October 1. However, that doesn't mean you should start pruning on that date. A mild fall means your elm trees could be robust well into November, so it's best to track fall temperatures and observe when the tree is dormant before pruning. An arborist can help determine when a tree is ready for pruning.
When Can You Prune Elm Trees in Calgary?
There's a pruning ban on elm trees in Calgary annually from April 1 to September 30. You can only prune elm trees from October 1 to March 31.
When Can You Trim Elm Trees in Edmonton?
In Edmonton, elm tree pruning is allowed only between October 1 and March 31. Elm trees on boulevards may not be touched without the consent of city authorities.
When Can You Prune Elm Trees in Winnipeg?
It's illegal to prune elms in Winnipeg from April 1 to July 31, when the beetles are the most active. Pruning is allowed from August 1 to March 31.
When Can You Trim Elm Trees in Kelowna?
There are no laws regarding elm tree pruning and removal in Kelowna or British Columbia, but it's recommended to follow the guidelines outlined in other communities.
Benefits of Elm Tree Pruning
When you prune an elm tree, you do more than prevent Dutch elm disease. Pruning benefits your elm tree and other trees growing around it. Here are some advantages of pruning:
Improved spring growth, as the removal of unhealthy branches allows the tree to channel all its energy to healthy branches when it comes back to life in spring
Reduced risk of breaking and snapping during a storm, thus reducing the risk of damage to your property
Lowered risk of infection because most insects and pathogens are dormant in winter, so the pruning takes place in a more sterile environment
Improved airflow between the branches, reducing potential rot and fungi growth
When you prune an elm tree in winter, you don't have to worry about flower bed damage or soil compaction from ladders and equipment. Pruning can also improve your view if your tree blocks a lake or other vista.
Why You Should Hire a Certified Arborist for Elm Tree Pruning and Shaping
Pruning your trees yourself may sound like a way to save money, but hiring a professional arborist has many advantages over DIY pruning.
An arborist knows the best place to cut branches to minimize stress and promote health
An arborist has equipment that homeowners lack, such as elevated work platforms and proper safety equipment
An arborist can spot problems early, such as diseases or cracks that homeowners can miss, and take corrective action before they become serious
An arborist will leave your property clean and dispose of elm wood according to local regulations
The professional arborists at ArborCare® are certified by the International Society of Arboriculture (ISA), which are valued and trusted credentials recognizing a high level of knowledge and skills and a dedication to the profession and the community.
ArborCare is also the first Canadian tree company to achieve Utility and Residential accreditation through the Tree Care Industry Association (TCIA) and is also COR-certified in every region it serves.
Professional Elm Tree Pruning Services in Calgary, Edmonton, Kelowna and Winnipeg
At ArborCare, our ISA-certified arborists provide professional elm tree pruning and shaping in Calgary, Edmonton, Kelowna and Winnipeg. We understand that trees and shrubs react to various procedures, and we pay close attention to the season, weather and other conditions that affect your tree's growth. Contact us today to book an appointment with an arborist and prevent Dutch elm disease in your community.