Preserve Your Elms & Keep Them Healthy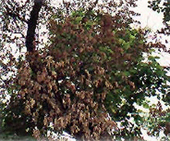 Dutch Elm disease (DED) was first introduced to North America from Europe in 1930, since then it has destroyed millions of American Elm trees across North America. The causative agent of DED is a fungus, Ophiostoma ulmi or Ophiostoma nova.
Fungal spores are spread from one elm tree to another by two beetle vectors, the smaller European Elm bark beetle Scolytus multistriatus, and the native Elm bark beetle Hylurgopinus rufipes.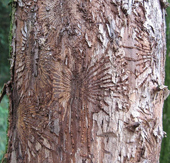 Alberta is one of the last geographic areas in North America to be free of DED. The province has no native Elm trees, however many thousands of Elms worth millions of dollars have been planted in Alberta cities, towns and rural landscapes. Elms have been a preferred tree to plant due to their stately beauty, rapid growth, good regenerative capacity, extensive lifespan and their ability to survive extreme climate conditions. Apart from DED, Elms have a strong resistance to disease.
One way to prevent the spread of Dutch Elm disease to Alberta is to follow pruning bans, only pruning Elm trees that are dormant prevents fresh cuts from attracting the beetle. Another way to be aware and prevent spread is to not transport wood across borders. Visit the STOPDED website for more information.
ArborCare actively co-operates with its host cities to prevent the spread of Dutch Elm disease. contact us today.
Source: City of Calgary