Sheldon Kincaid | Employee Spotlight
We have a great team in Calgary, Edmonton and Kelowna, and want you to meet them! Next up, Sheldon Kincaid.
---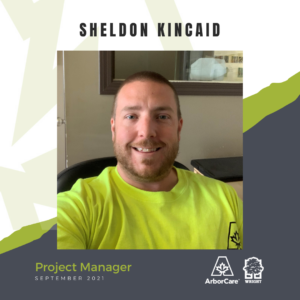 Meet Sheldon Kincaid
Title: Edmonton Project Manager
Team Member Since: September 2021
Certifications: Certified Utility Tree Trimmer and ISA Certified Arborist
Career Path
Q: Describe your career path. How did you get into what you do now?
A: I started as a groundsperson in 2007. When I began, I just needed a job. But I quickly fell in love with the work. I've worked all across Alberta, doing all sorts of jobs pertaining to tree work. I got my utility Tree Trimming ticket and then became an ISA-certified arborist. I enjoy being outdoors and always being able to see what I have accomplished in a day. 
Q: Explain your position. Describe your role with the company.
A: As Project Manager, I oversee all operations out of the Edmonton office. I am here to help grow this office and work with the city of Edmonton and all our residential clients. 
Life at Wright Tree Service of Canada & ArborCare
Q: What is your favourite part about your job/working for the company?
A: I get to see many crews work to find different solutions to the same problem. Not everyone views a task the same way and you continually get to learn on the job. As you work with people over time, you develop a brother/sisterhood with them and that can bring the utmost joy to see them further themselves in their careers.
Q: Who has played an influential part during your time with the company & why?
A: Andy McLellan has been a great asset to me so far. He has been extremely helpful with any little question I have. He has helped me along my journey so far.
Q: What are some words you would use to describe Wright Tree Service of Canada / ArborCare?
A: Bright future. Growth potential. Exciting.
Q: What are you most passionate about professionally? What excites you most about your work?
A: I love helping others achieve their goals. I enjoy teaching, mentoring, and instructing employees of the company as well as clients when needed. The best part of tree work is you can always see a finished project immediately once the work is completed. There is always something satisfying when it comes to this line of work.
Hobbies, Interests & Influences
Q: What do you like to do when you aren't working?
A: I enjoy playing with my kids, golfing, and watching sports.
Q: What's something about you that not many people know?
A: I am an open book. 
Q: Who was the most influential person in your life?
A: My dad.
Q: What's a value statement or quote you live by?
A: Keeping the army happy is rule 0. If your employees are not happy, then nothing can be done properly. 
Q: Do you and/or your family have a favorite tradition?
A: December 27th is a decompression day. Jammies and movies!