Injuries, Nutrient Deficiencies & More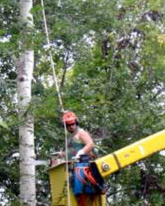 Sometimes your trees and shrubs will experience noticeable problems for reasons that are not immediately apparent, and are not due to insects or disease. At ArborCare Tree Service, serving clients across Western Canada, we have the experience necessary to help keep your plants healthy.
Whether your birch is suffering from dieback that leads to sparse foliage and dead branches, or you're hoping to help a much-loved tree recover properly from a mechanical injury, taking the wrong approach can sometimes make things worse. You need an arborist that can recognize the difference between a tree suffering from drought and one suffering from a nutrient deficiency. We are that arborist.
Don't let harm come to your plants by allowing them to be misdiagnosed or mishandled. Instead, contact us today first to make sure that the job is done right.