Jacquie Pretula | Employee Spotlight
We have a great team in Calgary, and want you to meet them! Next up, Jacquie Pretula.
---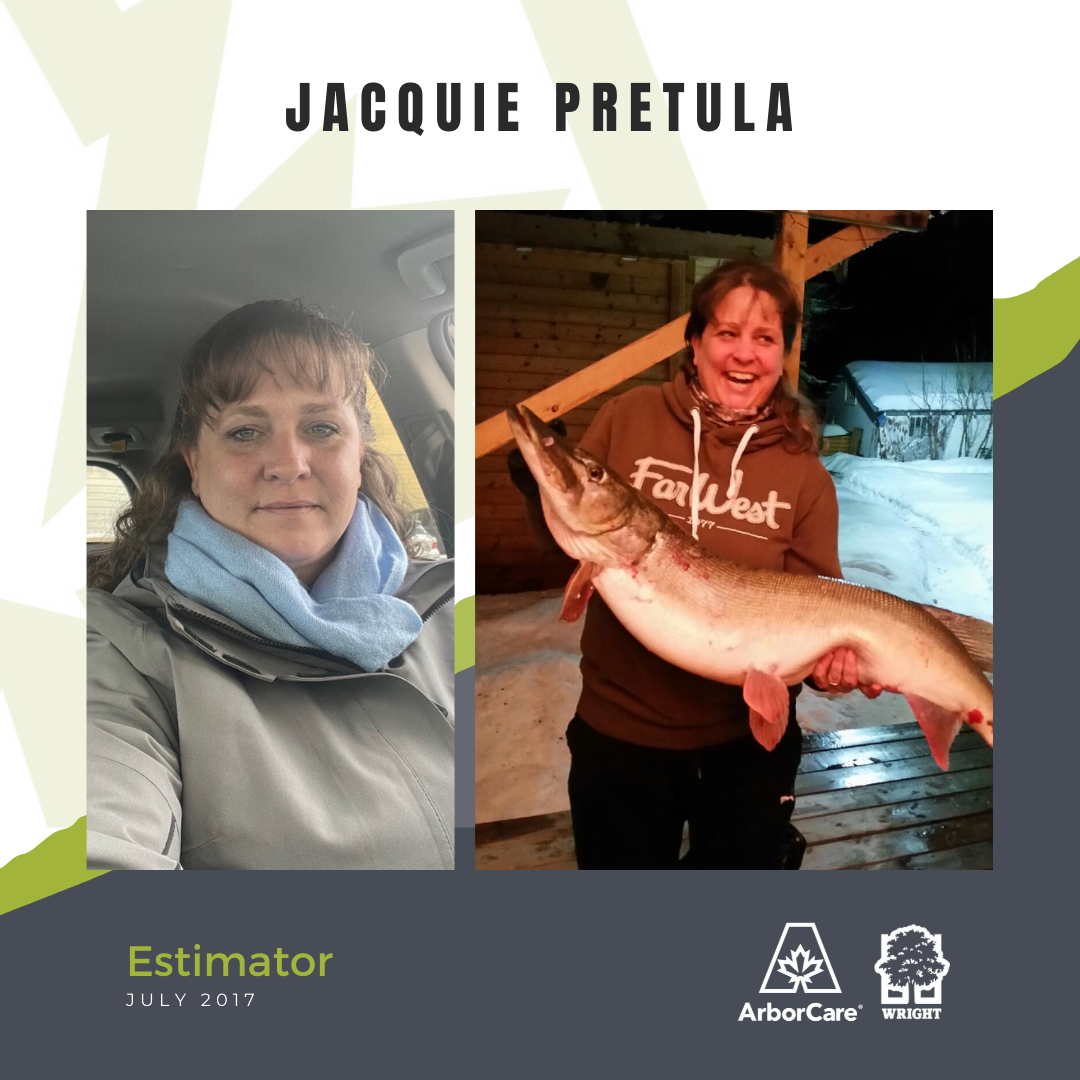 Meet Jacquie Pretula
Title: Estimator
Team Member Since: July 2017
Career Path
Q: Describe your career path. How did you get into what you do now?
A: Definitely not the most conventional career path, but I started out working as a cemetery director for a year then moved on and worked at a mobile home trailer park company.  After that, I found myself working at ArborCare in customer service.
Q: Explain your position. Describe your role with the company.
A: After three years working in customer service, I moved on to work as an estimator in Edmonton and surrounding areas.
Life at Wright Tree Service of Canada & ArborCare
Q: What is your favourite part about your job / working for the company?
A: The evolution of ArborCare and the positive direction we are going is very motivating. Being a part of an employee-owned company feels like family. I can be myself which allows me to be the best for clients. Crews are always helping me and giving me good advice/feedback which allows me to grow in my position.
Q: Who has played an influential part during your time with the company & why?
A: Terry Richard and Corrine Winfield. They both constantly push me to do my best and teach me new things. I really look up to Corrine and the expertise she has.
Q: What are you most passionate about professionally? What excites you most about your work?
A: I love helping people and educating clients about what is going on with their property. I continuously try to learn new things and want to be the best of the best. Knowledge is power! I would love to get the Tree Risk Assessment Qualification (TRAQ). I am also working towards becoming a Board Certified Master Arborist® (BCMA).
Q: What are some words you would use to describe Wright Tree Service of Canada / ArborCare?
A: Some words that come to mind would be safety-oriented, caring, loyal, firm, fair and diplomatic.
Hobbies, Interests & Influences
Q: What do you like to do when you aren't working?
A: I love being outdoors, fishing, hunting and farming. The most important thing for me is ice fishing with my family and grandkids. I love spending time with them.
Q: Do you and/or your family have a favorite tradition?
A: Ice fishing.
Q: What's a value statement or quote you live by?
A: Always be grateful, even on the bad days, you can find the good in something!