Corrine Winfield | Employee Spotlight
We have a great team in Calgary, Edmonton and Kelowna, and want you to meet them! Next up, Corrine Winfield.
---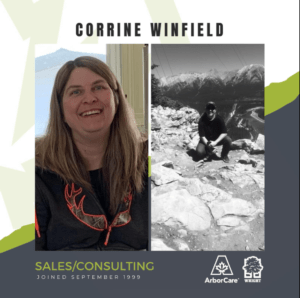 Meet Corrine Winfield
Title: Sales / Consulting Arborist
Team Member Since: September 1999
Certifications / Industry Organizations: BCMA (Board Certified Master Arborist), TRAQ (Tree Risk Assessment Qualification) Certification, TPAQ (Tree & Plant Appraisal Qualification) Certification, RCA (Registered Consulting Arborist®) Certification, and a member of the American Society of Consulting Arborists
Career Path
Q: Describe your career path. How did you get into what you do now?
A: I really enjoy nature and being outdoors so I could never see myself working in an office environment. I graduated as a Forestry Technician in 1996 there weren't a lot of opportunities at that time, so I moved back to Calgary in 1998 and started at ArborCare in 1999. I really enjoyed learning arboriculture and it seemed like a natural fit.
Q: Explain your position. Describe your role with the company.
A: Outside sales and consulting for the Calgary area doing commercial and residential estimates. I also provide reports for construction projects, tree risk assessments and tree valuations.
Life at Wright Tree Service of Canada & ArborCare
Q: What is your favorite part about your job / working for the company?
A: We have a great team of employees who are always willing to share their knowledge and teach others. You are always learning, there are always opportunities for training and education.
Q: Who has played an influential part during your time with the company & why?
A: A lot of people over the years have helped along the way, sharing their knowledge and experiences.
Q: What are you most passionate about professionally? What excites you most about your work?
A: The job is different every day and there are always new things to see and learn. I love finding interesting trees or insects out in the field.
Q: What are some words you would use to describe Wright Tree Service of Canada / ArborCare?
A: Team, growth, opportunities. We have a great team of employees, as the company continues to grow there are many opportunities for advancement.
Hobbies, Interests & Influences
Q: What do you like to do when you aren't working?
A: Spending time with my daughter. Horseback riding, camping, hiking and fishing.
Q: Who was the most influential person in your life?
A: My mom.