Andy McLellan | Employee Spotlight
We have a great team in Calgary, Edmonton and Kelowna, and want you to meet them! Next up, Andy McLellan.
---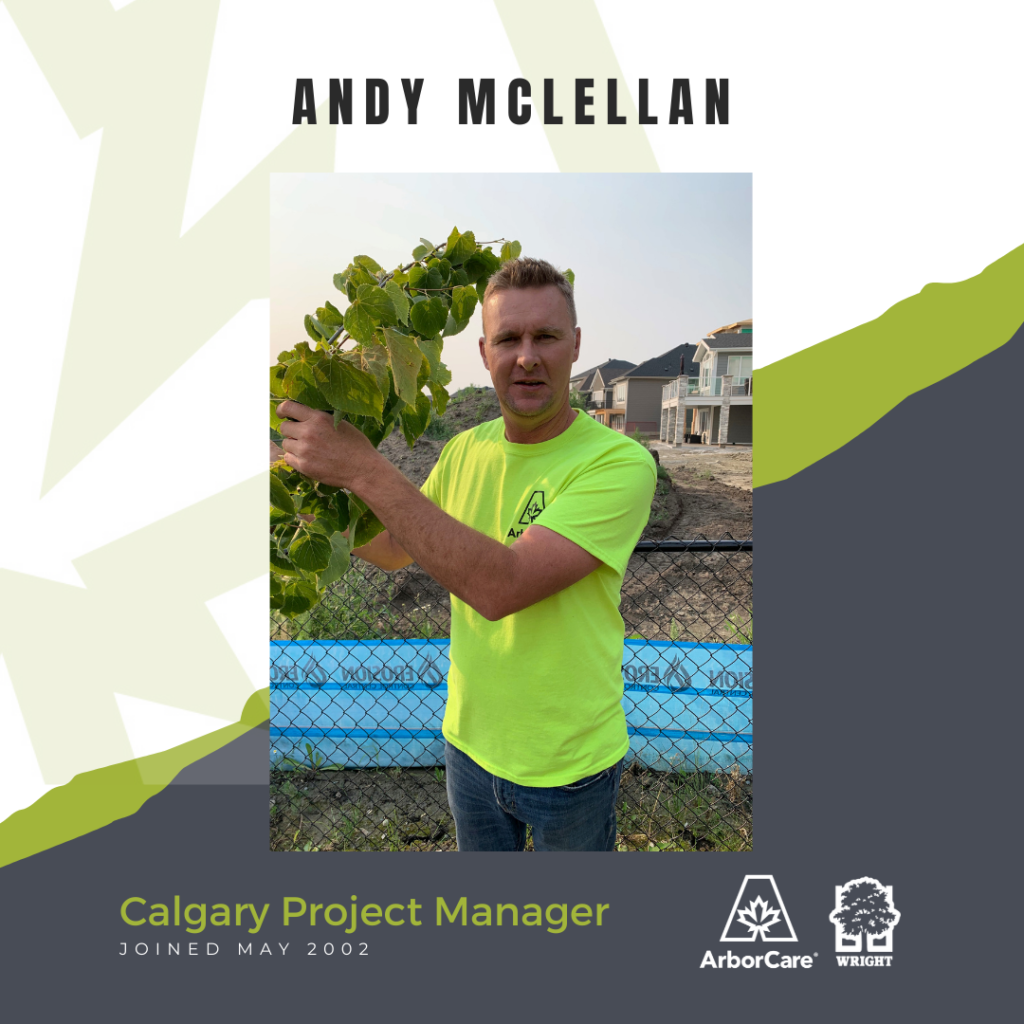 Meet Andy McLellan
Title: Calgary Project Manager
Team Member Since: May 2002
Certifications: Certified Utility Tree Trimmer, ISA Certified Arborist, TRAQ Qualified, Wright Tree Service General Foreperson School, ArborCanada Courses: Hazard Danger Tree Cutting Falling, Technical Tree Falling and Cutting, Spar Pole Rigging
Career Path
Q: Describe your career path. How did you get into what you do now?
A: I started out working at a landscape company. One day they needed someone to work in the tree department, so I volunteered and realized this was my passion. Five years went by and it became time to make a change. I interviewed at ArborCare and two weeks later, I started my new career. Working with ArborCare, I started out running my own crew as a climber and quickly advanced to the aerial lift operator. After nine years, I took an extended vacation from ArborCare. Then in the fall of 2011, I rejoined the company. I took the position of utility project manager for all out-of-town utility work. Nine years later I was offered another position to stay in Calgary to run the Calgary residential crews. I accepted that position as it meant no more hotels and coming home to my family every night. The thing that interested me about this career choice is the many opportunities and the challenges that arise every day.
Q: Explain your position. Describe your role with the company.
A: I am the Calgary Residential Manager. My responsibilities are to organize and schedule work for 5 to 7 crews daily. I work very closely with the sales team and provide insight on technical jobs. In the field, I assist, train, and inspect crews to make sure they are running safely and efficiently. I have also been known to head back out of town to run projects as needed.
Life at Wright Tree Service of Canada & ArborCare
Q: What is your favourite part about your job/working for the company?
A: Working outdoors and helping the crews overcome daily challenges.
Q: Who has played an influential part during your time with the company & why?
A: Jesus Vetencourt wants everyone to be part of the family. To see where he started his career and where he is now is an inspiration to every employee.
Q: What are some words you would use to describe Wright Tree Service of Canada / ArborCare?
A: Family, Career, Rewarding, Challenging, and Welcoming
Q: What are you most passionate about professionally? What excites you most about your work?
A: Striving to succeed with any task that I am given. I love seeing the younger generation learn and advance just like I did when I first started.
Hobbies, Interests & Influences
Q: What do you like to do when you aren't working?
A: When I'm not at work I like to spend my time outdoors. I am an avid hunter, I love camping, fishing, hiking, and take my quad out every now and then. My vacation go to spot is Mexico and I try to head down there every year.
Q: What's something about you that not many people know?
A: I was born in Scotland and immigrated to Canada in 1980 when I was only eight years old.
Q: Who was the most influential person in your life?
A: My father is the most influential person in my life. He taught me respect and inspired me to always strive to do my best.
Q: What's a value statement or quote you live by?
A: Everyone has something to teach you if you are humble enough to learn.
Q: Do you and/or your family have a favorite tradition?
A: Taco Tuesdays! Definitely my favourite day of the week. We use ground Elk and it tastes amazing.