Why ArborCare® No Longer Recommends Swedish Columnar Aspen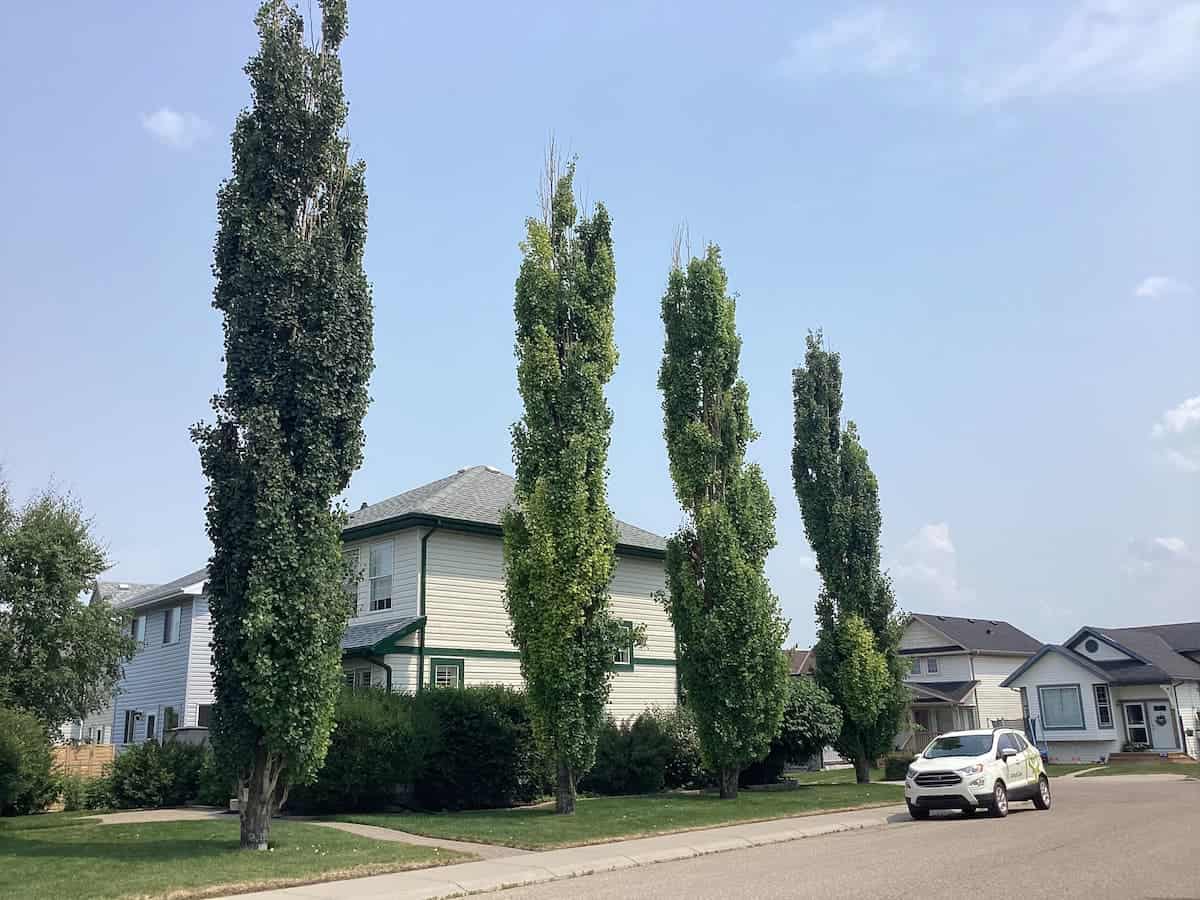 Swedish columnar aspen trees have been a popular addition to many Canadian landscapes, but their short lifespan makes them a less ethical choice than some other options. Here's what you need to know about this "fast-fashion" species, plus suggestions for more sustainable alternatives.
Why Is Swedish Columnar Aspen so Popular in Calgary?
Swedish columnar aspen is an extremely popular species with Calgary developers as privacy trees. They grow quickly — up to four feet a year — and can tolerate a variety of growing conditions.
Problems With Columnar Aspen
Despite its merits, the columnar aspen has shortcomings that can be problematic.
Short lifespan. In our experience, Swedish columnar aspens require removal and replanting every 10 years. This process is costly and unsustainable.
Susceptibility to pests and diseases. Columnar aspen trees are prone to a variety of fungal problems that affect the foliage, including rust, aspen leaf blight and bronze leaf disease (BLD).
High mortality rate. Fast-growing trees like columnar aspens tend to die younger. In Swedish columnar aspen, early death is often the result of growth stresses caused by pests and diseases.
Intrusive roots. Though columnar aspens have narrow trunks, their roots are very intrusive and will spread throughout your yard.
Alternatives to Columnar Aspen Trees in Calgary
As an ethical company, ArborCare no longer recommends Swedish columnar aspens to homeowners. We would prefer customers purchase trees that can be maintained rather than being replaced constantly. Here's a short list of privacy trees similar to columnar aspens that are available in Calgary:
Gladiator flowering crabapple trees have an upright, narrow canopy with bronzy-purple foliage. They display clusters of fragrant pink flowers in spring, followed by attractive small showy purple ornamental fruit in summer.
Starlite flowering crabapple trees have an upright oval canopy with green leaves that turn yellow in autumn. The red buds open to bright white, fragrant blooms in the spring, followed by small, red ornamental fruit.
Prairie spire green ash trees have a narrow, upright and columnar growth habit. They have dark green glossy foliage that turns a brilliant golden yellow in the fall. They're also seedless and require minimal maintenance.
Sutherland caragana trees have an upright columnar vase-shaped form with small oval green foliage that turns yellow in the fall. The leaves turn bright yellow in late spring. They're also drought-tolerant and can grow in poor or salty soil.
Although these varieties may have a slower growth rate compared to columnar aspen, they have a longer lifespan and fewer issues.
Expert Tree Planting Services
Do you want to plant new trees in your yard? At ArborCare, we offer a variety of beautiful trees that grow fast, aren't susceptible to pests and have a long lifespan. We also offer tree planting, pruning and shaping and plant management services for residential and commercial customers in Calgary and surrounding areas. Contact us today for more information.