Wes Callaghan | Employee Spotlight
We have a great team in Calgary, Edmonton and Kelowna, and want you to meet them! Next up, Wes Callaghan.
---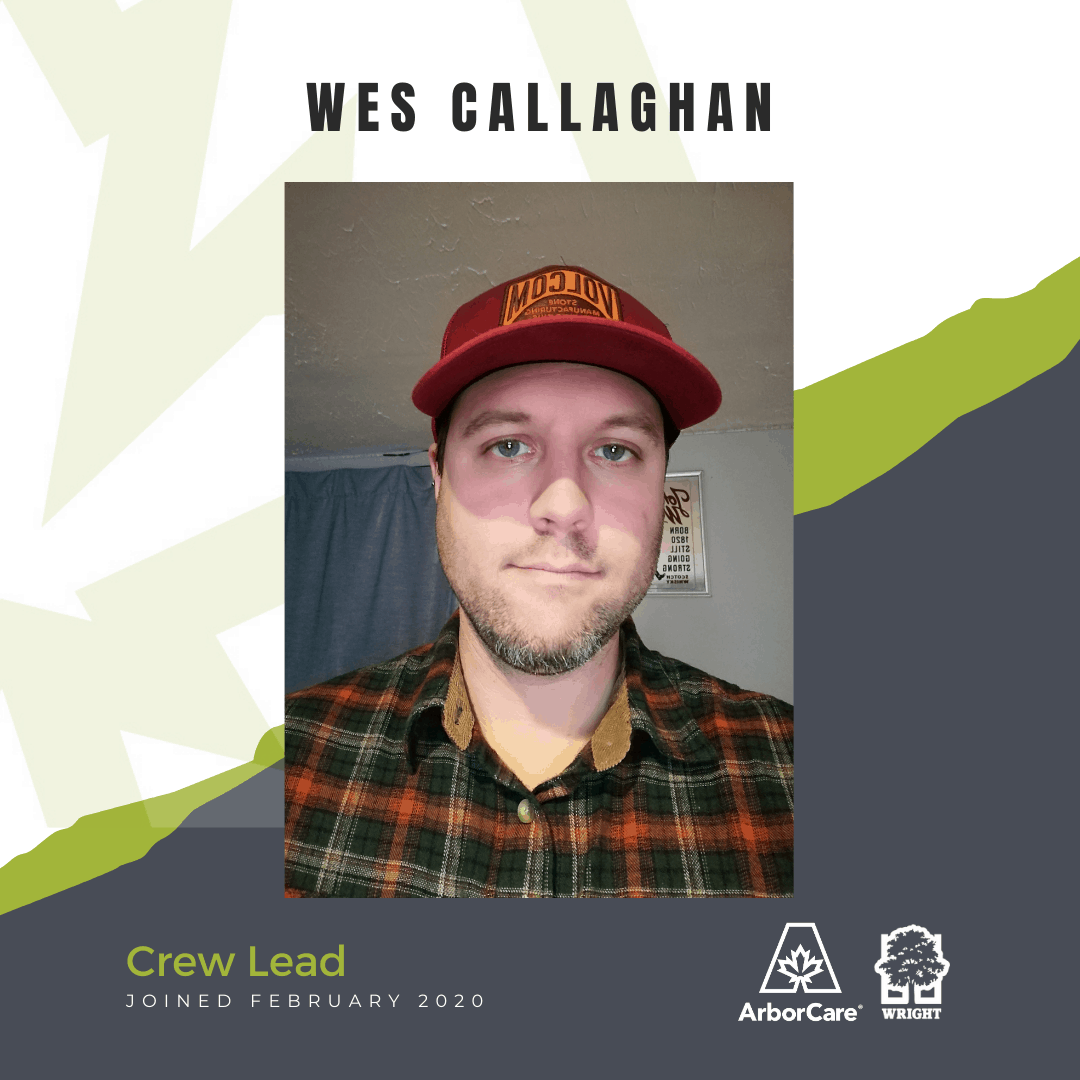 Meet Wes Callaghan
Title: Crew Lead
Team Member Since: February 2020
Certifications: Chainsaw operator's ticket, Aeriel Work Platform (AWP), Fall Arrest.
Career Path
Q: Describe your career path. How did you get into what you do now?
A: I did some landscaping in the early 2000s with another company and really enjoyed it. Didn't work much with trees and wanted to give it a try.
Q: Explain your position. Describe your role with the company.
A: I am a crew lead for the seasonal services. I primarily focus on stump grinding/removal, minor yard maintenance, tree planting and the occasional tree removal.
Life at Wright Tree Service of Canada & ArborCare
Q: What is your favourite part about your job/working for the company?
A: Seeing the satisfaction the customer feels when the job is done and to their liking. Also, hearing them say they will call us again or recommend us to friends.
Q: Who has played an influential part during your time with the company & why?
A: My boss, Seasonal Services Supervisor Arron Schemenauer. He has helped me get enrolled and through a couple of courses and I'm sure more to come. He shows me respect and lends a hand when it's needed.
Q: What are you most passionate about professionally? What excites you most about your work?
A: I like talking to customers and leaving with them satisfied about the work that was done. I like the people I work with too. We're always having fun.
Q: What are some words you would use to describe Wright Tree Service of Canada / ArborCare?
A: I think everyone at ArborCare does a good job. They take care of our clients and always goes a little above and beyond to do a good job.
Hobbies, Interests & Influences
Q: What do you like to do when you aren't working?
A: I like playing guitar. Getting out of the city to the back country and relaxing or going hiking. I love camping.
Q: What's something about you that not many people know?
A: I want to own and operate my own food truck one day. I love them. I have worked in a handful of kitchens in my life. I find cooking to be both challenging and relaxing.
Q: Who was the most influential person in your life?
A: Not to sound cliché but it's deffinetly my parents and sister. They have and continue to always be there for me even at my lowest. They always have and always will care about me.
Q: Do you and/or your family have a favorite tradition?
A: Christmas. But I think it's mostly because of me. I love getting the family together for a few days and forgetting about everything else in our lives, just having a good time. I think it's the most comfortable/relaxing holiday.

Q: What's a value statement or quote you live by?
A: Always show the respect to people that you would like shown back and be polite.