Tyler Zuber | Employee Spotlight
We have a great team in Calgary, Edmonton and Kelowna, and want you to meet them! First up, Tyler Zuber.
---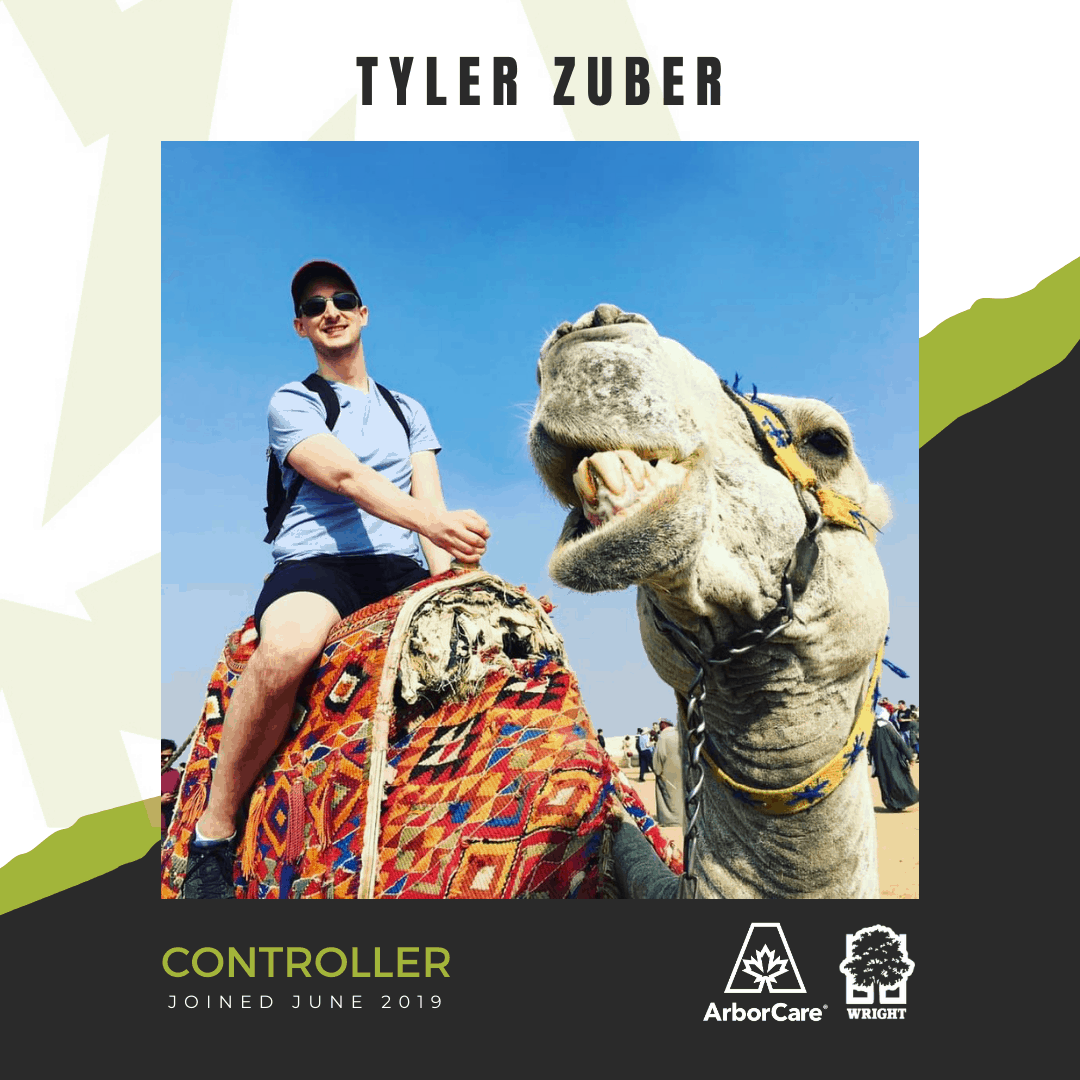 Meet Tyler Zuber
Title: Controller
Team Member Since: June 2019
Certifications: CPA, July 2018
Industry Organizations: Chartered Professional Accountants of Alberta, Canadian Payroll Association
Career Path
Q: Describe your career path. How did you get into what you do now?
A: Process of elimination. I originally started out as a hospitality major, so I got a job working front desk at a resort. After about a week, decided…nope. Worked there for a couple more years, the HR Director made her job look like a lot of fun so I switched my major to Human Resources. After taking my first HR class I noped out of that too. I took an accounting class and enjoyed it, worked a bit as a night auditor at the hotel, then pursued it.
I worked at the front desk until my fourth year, then I took a co-op student position at an accounting firm in Kelowna during tax season. Fun fact: I worked at the window of a drive-through liquor store too. After I graduated, moved to Calgary to work for the same accounting firm for almost four years before deciding that public practice wasn't for me long-term. I applied for this job, and here I am! What attracts me to accounting is the structure. I'm analytical and detail-oriented.
Q: Explain your position. Describe your role with the company.
A: I'm the Controller for the Canadian companies within the Wright Service Corp. family of companies. The most important part of my job is leadership. I lead a team of 10 in the accounting department across Alberta and British Columbia including accounts receivable, accounts payable and payroll. Strategic planning is a large part of my role as I provide a financial expertise to the operations leadership team to help guide effective decision making. There's a lot of financial reporting, banking, financing, and financial analysis. I send a lot of GIFs. I also
manage our iPad program for the crews.
Life at Wright Tree Service of Canada & ArborCare
Q: What is your favorite part about your job / working for the company?
A: Opportunity. With a company that's growing on this scale, the opportunities are endless.
Q: Who has played an influential part during your time with the company & why?
A: I think everyone has played a role. Everyone on the team has their own experiences that they bring, their own professional backgrounds and each of us influences each other's decision making, because the environment is truly collaborative. Each of the people on my team that I manage have influenced me for the same reason. Every one of us has our own background and skillsets that we bring to the table, and we all adapt ourselves to try and push the company forward.
Q: What are you most passionate about professionally? What excites you most about your work?
A: Efficiencies. The most important thing to me professionally is always trying to maintain a proactive approach to problem solving rather than a reactive. I spend a lot of time with my team, and with the operations team, trying to figure out what problems could happen, and what we can do to prevent them.
I'm excited about growth! We're a completely different company than we were a year ago. I'm excited to see how the changes we make today will influence where we are this time next year.
Q: What are some words you would use to describe Wright Tree Service of Canada / ArborCare?
A: Different. Growth. Future. We're a completely different company culturally than we were a year ago. We're really starting to position ourselves as an employer of choice. The growth that we have made in the last year has not only been in terms of volume or number of employees.
Hobbies, Interests & Influences
Q: What do you like to do when you aren't working?
A: I've spent a couple months solo backpacking, mostly through Europe, but I've also been to Egypt, China, and a couple other countries. If I could, I'd spend every day at the beach or by the river.
Q: What's something about you that not many people know?
A: My passion for solo travel happened on accident. My first big trip I was going with a group for a friend's wedding. They called it off a week before, everyone changed their plans around, but I still ended up going and just made it up as I went.
Q: Who was the most influential person in your life?
A: My dad. Been through a lot, we're very close.
Q: What is a value statement or quote you live by?
A: Can't means won't. I heard this a lot from my dad growing up and I would never hear the end of this if he read this. Growing up whether it was sports or school or whatever else, whenever we said we couldn't do something he would call us out and say we just weren't willing to try. He was right.