Sebastian Maas | Employee Spotlight
We have a great team in Calgary, Edmonton and Kelowna, and want you to meet them! Next up, Sebastian Maas.
---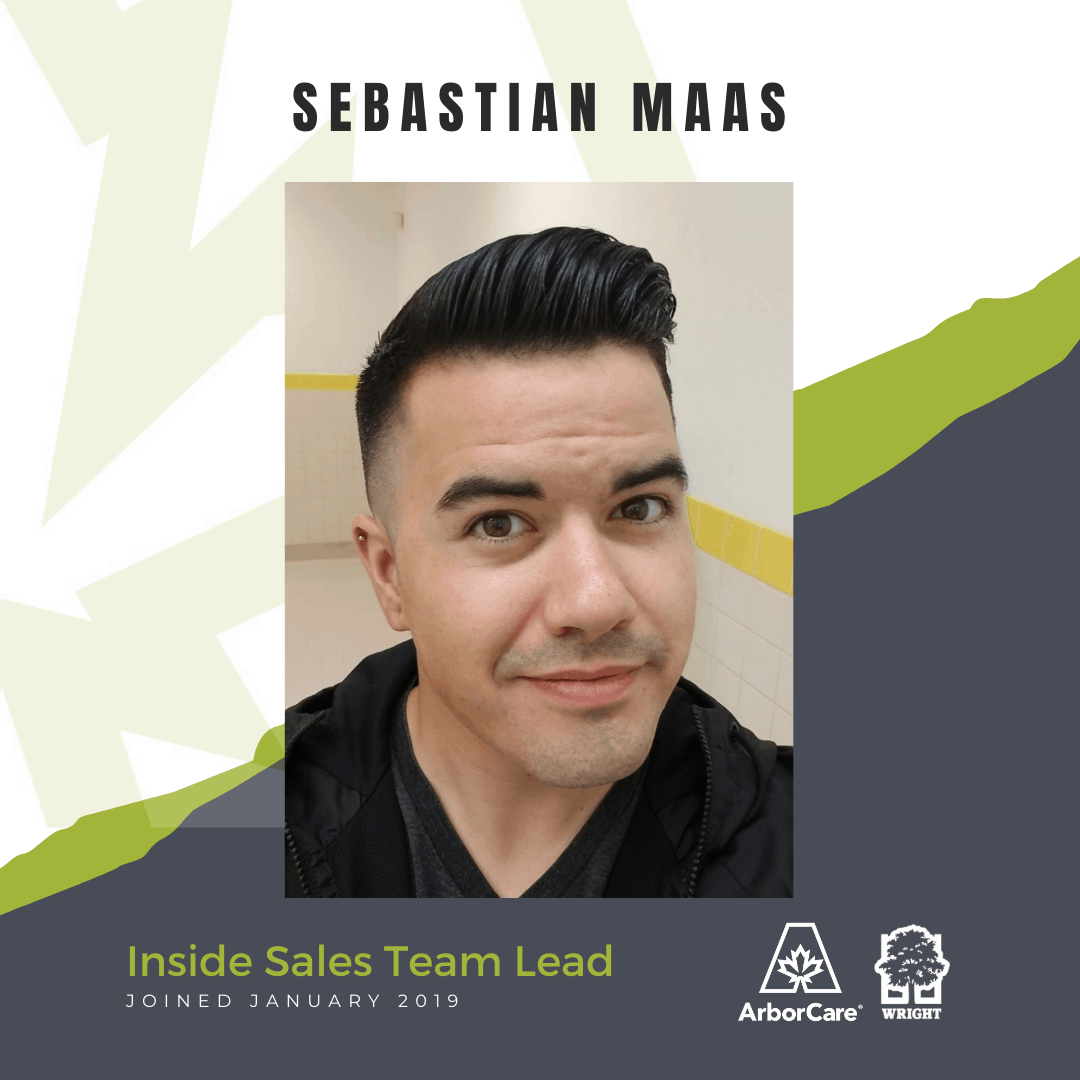 Meet Sebastian Maas
Title: Inside Sales Team Lead
Team Member Since: January 2019
Career Path
Q: Describe your career path. How did you get into what you do now?
A: I have been working mainly in retail and customer service roles since 2005. My personality is geared towards hospitality and problem-solving, so customer service is one of the most natural career paths for me to follow. The ArborCare Inside Sales Team Lead role interested me because it gave me the opportunity to be in a position where I can help influence positive change and growth within a company. When I first started in January 2019, one of my first goals quickly became team communication, and I worked with management to improve communication between the customer service team and the field crews so that we could all function smoother!
Q: Explain your position. Describe your role with the company.
A: My position as Inside Sales Team Lead has situated me to be a central hub of communication between clients, estimators, production team, accounting team and management. My day-to-day consists mainly of handling residential clients, team e-mails, inbound and outbound calls from clients and our team, preparing work orders for our crews, maintaining account information for all of our clients, directing our customer service staff, and more.
Life at Wright Tree Service of Canada & ArborCare
Q: What is your favourite part about your job / working for the company?
A: My favourite part is the atmosphere that the employees bring to ArborCare. This company has, and always will, rank high for me on the list of companies that have made me feel welcome and comfortable. The management team has been fantastic with making me feel as though I am a valued part of the team, and I put in the effort to work quickly to show my appreciation!
Q: Who has played an influential part during your time with the company & why?
A: I would have to say that a large majority of the team has played an influential part in my time with the company, and it is hard to whittle that down to one person. Stacy Krahn has been nothing but a boon to my ability to work effectively at ArborCare. She helped teach me the systems and programs from the beginning, and gave me a giant head start because of that. Terry Richard has been an extremely supportive management figure for me, and his positive attitude has helped push me consistently to keep up the work that I am doing. Chris Gamache has been a key figure in my development at ArborCare. He has given me more than a few opportunities now to show that I can be an influential part of the team. Arron Schemenauer has also been influential in helping me find my footing in the company, and was a good bridge to have between the crew and myself so that I could learn more about how my position effects the crews.
Q: What are you most passionate about professionally? What excites you most about your work?
A: I am most passionate about figuring out the quickest way to resolve issues as most of my work follows a routine of sorts. When I am able to incorporate faster resolutions into my work flow, whether it is an internal issue or client-related, it gives me a sense of purpose in keeping the things that are within my control, under control.
Q: What are some words you would use to describe Wright Tree Service of Canada / ArborCare?
A: I may have covered this in the 'favourite part about your job' section, but I will add that Wright Tree Service of Canada has been a great company to work for since the transition! I would be lying if I said I didn't have concerns about job security during the transition, but Jesus Vetencourt and the company have been extremely considerate and compassionate ever since their arrival at ArborCare. I've sincerely appreciated the opportunity to be part of the Wright Tree Service family!
Hobbies, Interests & Influences
Q: What do you like to do when you aren't working?
A: My hobbies consist of gaming, playing chess occasionally, and music! I play guitar, and I love to find new music. Luckily, phone apps are pretty good at suggesting new music nowadays.
Q: What's something about you that not many people know?
A: I have a very big family that has 11 children!
Q: Who was the most influential person in your life?
A: Probably my mom.
Q: Do you and/or your family have a favorite tradition?
A: Not necessarily, but my siblings have multiple children, so we normally meet up for birthdays and other celebrations every other weekend. I suppose that's our tradition(s)!
Q: What's a value statement or quote you live by?
A: "All of us do not have equal talent, but all of us should have an equal opportunity to develop those talents." – John F. Kennedy