Josh Moule | Employee Spotlight
We have a great team in Calgary, Edmonton and Kelowna, and want you to meet them! Next up, Josh Moule.
---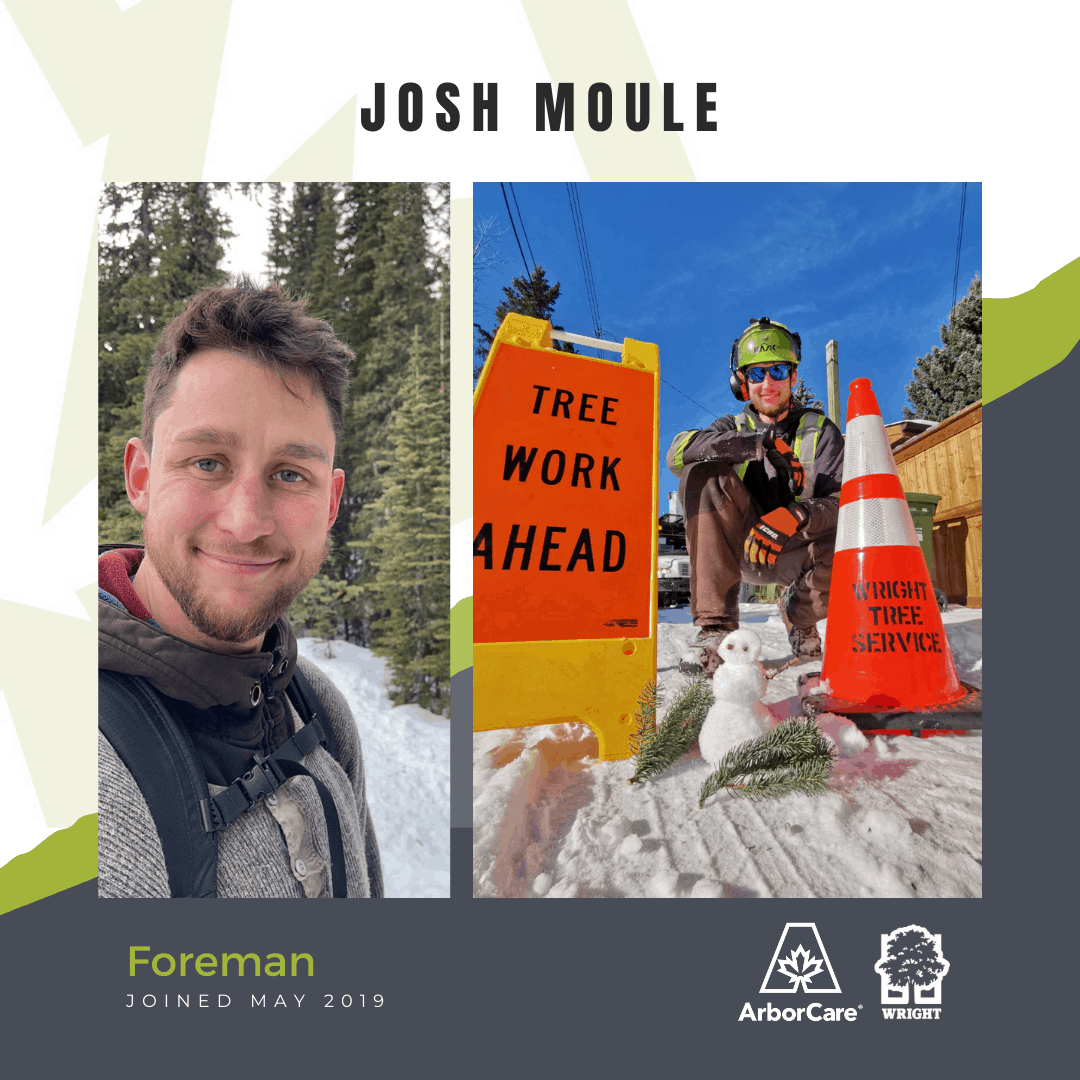 Meet Josh Moule
Title: Foreman
Team Member Since: May 2019
Career Path
Q: Describe your career path. How did you get into what you do now?
A: I worked with trees on Vancouver island. After finishing playing college basketball, I needed a job and thought being an arborist would be pretty cool.
Q: Explain your position. Describe your role with the company.
A: I'm a foreman – a certified utility tree trimmer (UTT) / International Society of Arboriculture (ISA) certified arborist. I currently run a trim truck for utility clearance.
Life at Wright Tree Service of Canada & ArborCare
Q: What is your favourite part about your job / working for the company?
A: It would have to be the climbing part of the job.
Q: Who has played an influential part during your time with the company & why?
A: Chris Paterson. That man is the G.O.A.T. (greatest of all time for those who didn't know). What more is there to say? He has taught me a ton of stuff in and out of the field. I always say he's the best general foreperson in the game.
Q: What are you most passionate about professionally? What excites you most about your work?
A: Climbing, rigging and large removals.
Q: What are some words you would use to describe Wright Tree Service of Canada / ArborCare?
A: It's a great organization.
Hobbies, Interests & Influences
Q: What do you like to do when you aren't working?
A: I enjoy spending time with my girl and our dogs. Some of my favorite activities include playing basketball, working out, hiking, camping and traveling to Vancouver Island.
Q: What's something about you that not many people know?
A: I played a high level of competitive basketball.
Q: Who was the most influential person in your life?
A: Kobe Bryant
Q: What's a value statement or quote you live by?
A: "Michel Jordan has missed game winning shots. We are all only human!"