Nicky Stabler | Employee Spotlight
We have a great team in Calgary and want you to meet them! Next up, Nicky Stabler.
---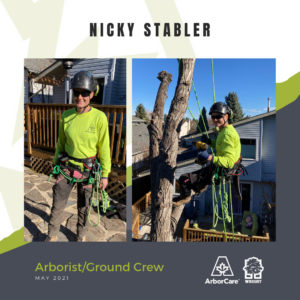 Meet Nicky Stabler
Title: Arborist / Ground Crew
Team Member Since: May 2021
Career Path
Q: Describe your career path. How did you get into what you do now?
A: I have a Bachelor of Science degree but didn't enjoy that field of work once I got into it. Previously, I worked as a server until starting at ArborCare in May. 
Q: Explain your position. Describe your role with the company.
A: My role is mainly a groundworker. I have climbed a few trees and definitely enjoying the industry so far. As I continue, I am super interested in learning more from everyone I work with.
Life at Wright Tree Service of Canada & ArborCare
Q: What is your favourite part about your job/working for the company?
A: I love working our residential jobs. There are so many different aspects of tree pruning as well as tree removals. Climbing and rigging are also a very interesting part of the job. I recently did a tree surgery job with Chris Paterson and I really enjoyed that experience.
Q: Who has played an influential part during your time with the company & why?
A: Amy Vandezande — my girlfriend. She works in the utility division and recommended the job at ArborCare. It is so inspiring being a woman in a man's industry which is hard work. Amy is one of the few women certified in this field.
Q: What are some words you would use to describe Wright Tree Service of Canada / ArborCare?
A: A good company to work for so far.
Q: What are you most passionate about professionally? What excites you most about your work?
A: There is always something new to learn and we are able to use our creativity. The danger aspect of this job is so exciting!
Hobbies, Interests & Influences
Q: What's something about you that not many people know?
A: I have 10 years of Royal Conservatory piano experience! I have MS — but I do not let it affect my daily life and will do as much as I can as long as I am able to.
Q: What's a value statement or quote you live by?
A: If not now, when?