Nick Evans | Employee Spotlight
We have a great team in Calgary, and want you to meet them! Next up, Nick Evans.
---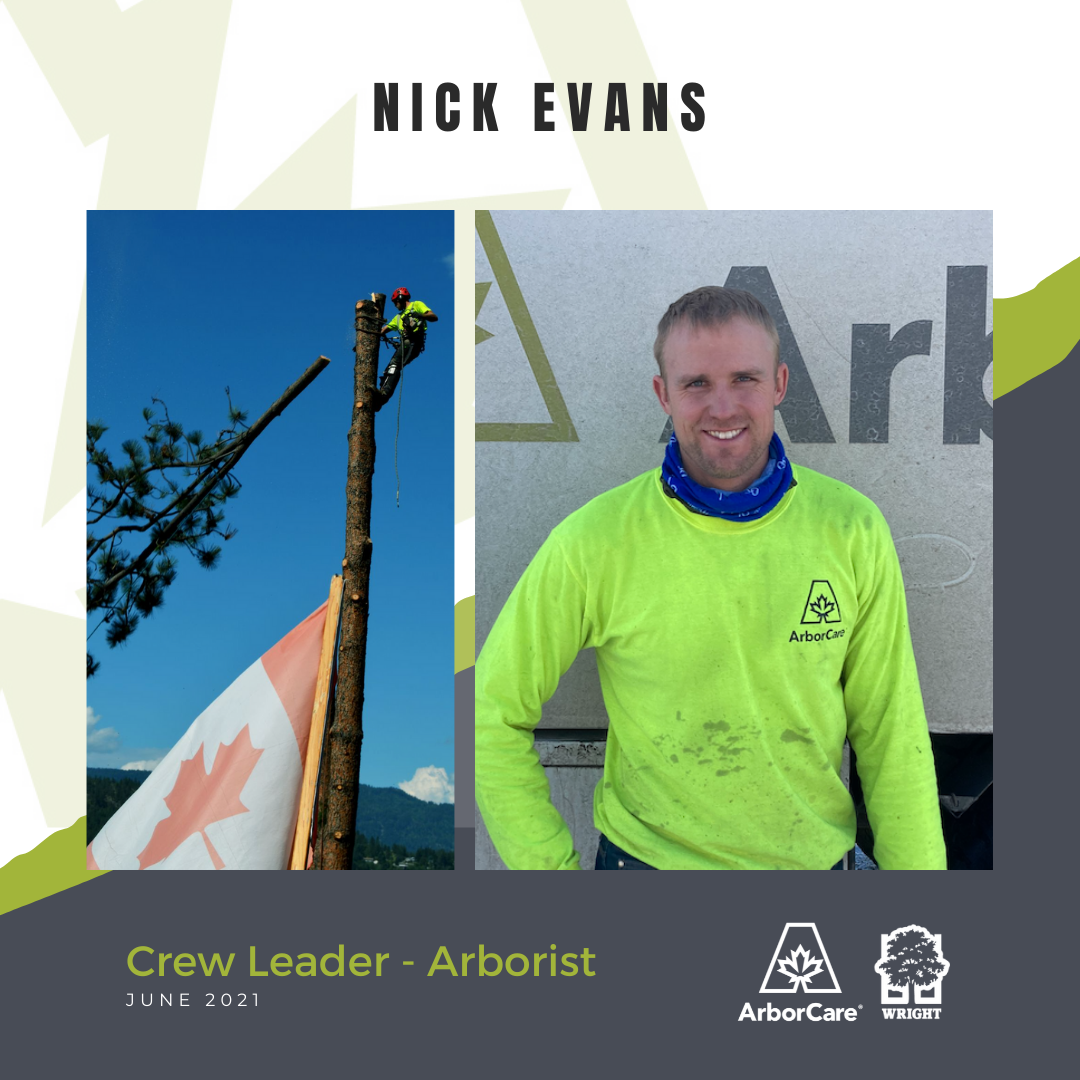 Meet Nick Evans
Title: Crew Leader – Arborist
Team Member Since: June 2021
Career Path
Q: Describe your career path. How did you get into what you do now?
A: I previously worked in an electrical apprenticeship in Ontario. After a while, I was not satisfied with the work I was doing so I looked into the tree industry. Prior to working for ArborCare, I worked for a tree company in Ontario and another in Kelowna.
Q: Explain your position. Describe your role with the company.
A: As a crew leader, I climb up into trees and do tree pruning, shaping or removal. Whatever task it may be, if it is safe, I am more than happy to do it!
Life at Wright Tree Service of Canada & ArborCare
Q: What is your favourite part about your job / working for the company?
A: It is always rewarding to see the outcome of the work we do. I love watching projects evolve from start to finish and if the client/homeowner is happy with the finished product then I did my job correctly. I always strive to provide quality service, no matter what the job may be.
Q: What are you most passionate about professionally? What excites you most about your work?
A: I love being outside and doing physical work. I am always up for a challenge and this job provides me with that opportunity. I am currently working toward my ISA certification and I always enjoy the training sessions that are provided for it.
Q: What are some words you would use to describe Wright Tree Service of Canada / ArborCare?
A: So far, this has been a great company to work for.
Hobbies, Interests & Influences
Q: What do you like to do when you aren't working?
A: I love being outdoors and in the mountains. Ultra running is a passion of mine as well as cross country skiing.
Q: Who is the most influential person in your life?
A: My grandfather. I really enjoy learning about his past and the WW2 stories that he tells!
Q: What's a value statement or quote you live by?
A: Embrace the suck – Make friends with discomfort and you'll never be lonely.