Black Knot Disease 
How to Recognize an Infestation in Your Trees?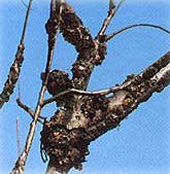 Anyone who has fruit trees in Alberta knows that they can be prone to disease unless carefully monitored and treated. One disease common to our area is black knot fungus. Take time to learn the facts about this tree disease so you can keep your arbor healthy and thriving.
Black knot is caused by a fungus that often impacts a wide variety of the Prunus species, including plums, apricots, and cherries. It is also extremely aggressive on Shubert Chokecherry and Mayday trees in Alberta.
What It Looks Like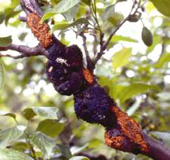 Watch your trees between April and June, particularly during wet, warm weather. Here are a few common symptoms you may see:
A small, light brown swelling on/around former or current growth
Enlarged swellings that appear as velvety, olive green knots (indicating progressed growth from the previous year's brown swellings)
By the time you see olive green knots, spore release is imminent. The fungus releases spores heavily during blossom time, just before trees begin to leaf.
After spore release, knots turn dark. By autumn they appear as black knots, hence their name. Knots will continue to grow until they surround a given branch and kill it. If the infestation spreads, it may eventually kill the tree itself.
Black Knot Treatment
As with any tree disease, vigilance is key. Follow these 4 tips to gain the upper hand in disease prevention or containment:
Examine all trees annually for black knot fungus. Remove diseased branches from any infected trees, including those trees adjacent to your property, if possible. Prune and destroy the infected branches before the tree buds.
Try to prune at least 5 to 10 cm below each knot. This helps contain fungus that grows beyond the knot itself. If you can't remove major limbs, cut the knot down to healthy wood for at least 1.27 cm beyond the knot. Prune annually until the disease is eradicated.
Do not plant new prunes, cherries, or plums downwind from or adjacent to areas with a significant black knot infestation.
Avoid fungicides, as they will not be effective when pruning or sanitation are ignored. Fungicides are also not recommended for urban areas.
Have further questions on black knot fungus? Contact the knowledgeable professionals at ArborCare Tree Service Ltd., where we've been serving Western Canada for over 30 years. Call us, toll free, at 1-877-444-8733 (TREE) today for your estimate or to ask about our discounts.