Wood Mulch on Sale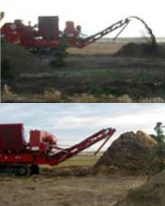 ArborCare Tree Service is your source for natural, non-dyed, well-rotted wood chip mulch. Our ArborMulch product is comprised of a mixture of poplar, spruce, ash, and any other trees we work on. Mulch is beneficial when used to cover tree wells and flower beds to help keep moisture in the ground, and it keeps the ground frozen during the winter (which then keeps the moisture in the ground where the trees need it). It can also be used as a ground cover in landscaping and is great for shelterbelts, acreages, and gardens. Protect your trees and shrubs in a natural, chemical-free way.
Wood Products Available for Free Pick-Up
At ArborCare Tree Service, we also sell firewood, tree/stump cookies, etc., and we also have several wood products available for free pick-up for organizations in our service area. For example, we've had numerous after-school programs pick up sticks from our yard for their after-school arts and crafts programs.
Processed vs. Unprocessed Mulch
Processed mulch chips have been put through a chipper and then through a tub grinder for more uniform chip pieces. Unprocessed mulch chips have only been put through a chipper – the pieces could be quite large and there may be small branches and sticks. To learn more about our pricing, or to get started, contact us today.