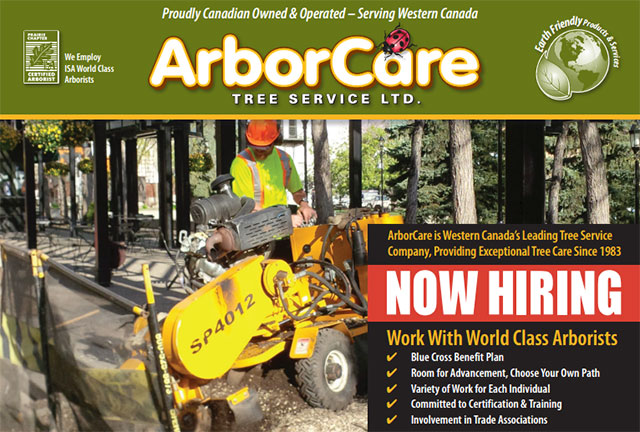 Positions Open for Mulcher Operators and Stump Grinders
ArborCare Tree Service Ltd. is committed to a safe and healthy workplace in our various Western Canada offices. ArborCare provides opportunities for a long-term career with growth potential, training opportunities and competitive compensation!
Mulcher Operator
Required Experience
The ideal mulcher candidate will have three or more years of experience within the tree care Industry, with knowledge of working around power lines. As an applicant, you are required to have 500 hours on a skid steer, but we prefer for you to have 1000 hours on a skid steer mulching and your CSTS. A valid Canadian driver's licence in good standing is required.
Primary Duties
Mowing a minimum of 5000 m2 per day
Willing to work out of town for up to 10 days at a time
Maintaining a high level of knowledge of operating mulchers and skid steers, and must be mechanically inclined
Following a carefully detailed work plan for daily job tasks and sites
Demonstrating knowledge of proper pre-mow and mowing techniques to limit call backs to sites
Stump Grinder
Required Experience
The ideal stump grinder candidate will have at least one year of experience working with a stump grinder. Tree pruning and plant ID knowledge is beneficial. A valid Canadian driver's licence in good standing is required.
Primary Duties
Reporting for duty at the designated location on time each day
Following directions from the crew leader or designated supervisor, arborist representative or local manager
Utilizing all appropriate personal protective equipment
Demonstrating the proper stump grinding procedure
Interacting regularly with clientele in order to ensure job satisfaction
Understanding and following directives on all stump grinding work orders
Send your replies to Hailey Kathryn at careers@arborcare.com or by fax at 403-272-1536. Please note that phone applicants will not be accepted.