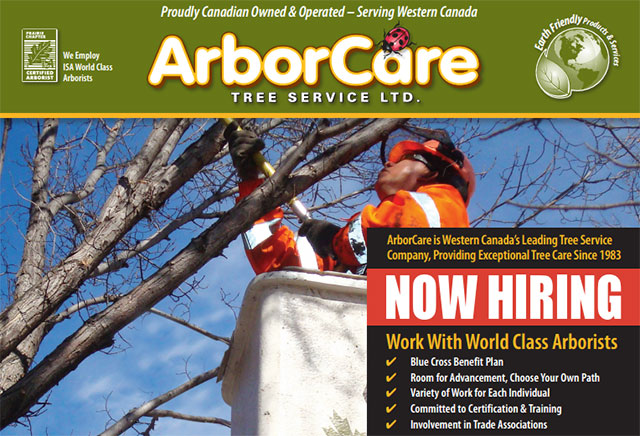 Experienced Utility Arborist Needed at ArborCare Tree Service
ArborCare Tree Service Ltd. is committed to a safe and healthy workplace in our various Western Canada offices. ArborCare provides opportunities for a long-term career with growth potential, training opportunities and competitive compensation!
Required Experience
The ideal candidates will have three or more years of experience working around utility power lines, either working as a utility apprentice or having a valid UTT/CUA certificate. Forestry or related schooling is a beneficial qualification but is not mandatory. A valid Canadian driver's licence in good standing is preferred but not required.
Primary Duties
Performing all required ground, climbing and aerial lift duties in support of specific job assignments, as directed by crew leader or designated supervisor
Operating safely around power lines, performing tasks such as slashing, mowing, hazard tree removal and hot trim, all within proximity to energized lines
Demonstrating and practicing proper climbing techniques and procedures, pruning, and small removal skills and rigging techniques
Arriving on time to designated sites with the proper gear needed to do the required tasks assigned each day
Maintaining assigned company gear
Send your replies to Hailey Kathryn at careers@arborcare.com or by fax at 403-272-1536. Please note that phone applicants will not be accepted.